do you shop online? —Of course, often! Online stores, online shopping, and online transactions have become part of our lives. In this era, as long as they are willing to do it, anyone can create their own online store, a domain name, a virtual host, and a website program, and you can become a member of the online business world.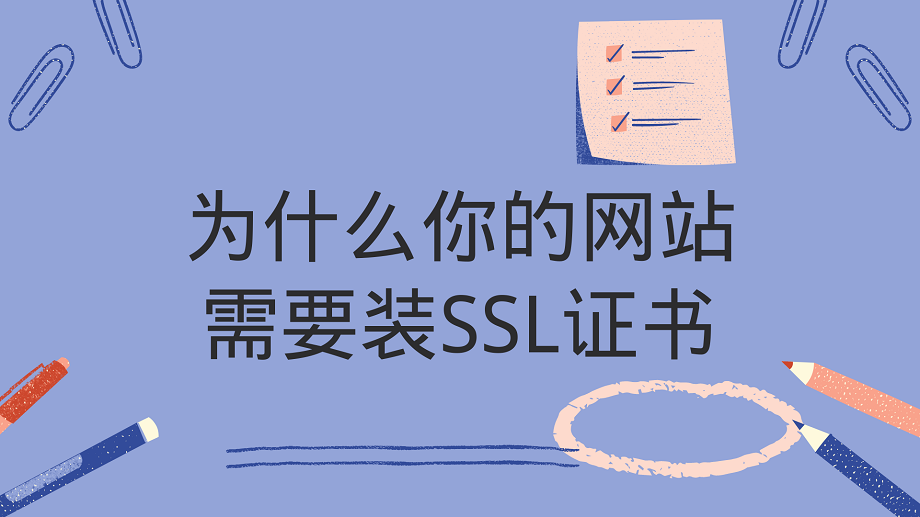 Do you need an SSL certificate for your website?
Many people buy web hosting out of a hobby, like starting their own blog, or because they want to share or sell high-quality products/services online. The good or bad of the website has a lot to do with the virtual host you choose. Whether you're a novice or an expert in the hosting industry, there are a lot of terms you need to know. This article will introduce a term that is very important to web commerce: SSL certificate.
1. Why do you need an SSL certificate?
There are many factors that affect online transactions, including price, quantity, quality, and more. But these factors are related to the product itself. It's one thing to convince customers of your product, how can you convince them of your website?
The answer is SSL certificates. This certificate keeps your website safe and secure when handling credit cards and other personal information, making your website PCI compliant, which is essential for online commerce.
2. What is an SSL certificate?
In a nutshell, an SSL certificate is a badge for your online store that proves to your visitors and potential customers that the information they submit through your website is secure. Security, privacy, trust, these are all critical! This is where the value of an SSL certificate is reflected. It tells your visitors that you value the three things above. Once you have this badge, your business is half done.
3. What is the principle of SSL certificate?
The main function of an SSL certificate is to encrypt the information that customers transmit through your website so that the real recipient of the information can read them. This leaves an opportunity for identity thieves and hackers.
4. When do you need an SSL certificate?
To be precise, your website doesn't have to install an SSL certificate right away. In fact, you can conduct online transactions through PayPal even without an SSL certificate. This is of course convenient, and Paypal is a popular method of transaction, but if your customers need to enter credit card information, the PCI standard requires your website to have an SSL certificate installed. Otherwise, you're telling potential customers that if you're going to enter credit card information, you'll have to go somewhere else. Would you like to see this happen?
5. How to install SSL certificate?
Bluehost sincerely wishes your online business a great success. Installing a third-party SSL certificate can be tricky, so if you want to make the process easy and seamless, we can help. We provide a variety of SSL certificates for customers to choose from to meet different needs.
1. Positive SSL Certificate
Comodo's Positive SSL certificates secure intranets, extranets and websites and are an economical and ideal way to secure corporate web servers.
2. Comodo SSL Certificate
Comodo SSL certificate protection is powerful, flexible, and can be ordered online and installed in minutes.
3. Positive Wildcard SSL Certificate
Buying an SSL certificate for each subdomain and managing these certificates is time-consuming and laborious. Buy a Positive Wildcard SSL certificate and get all the subdomains at once, saving money and effort.
4. Comodo Wildcard SSL Certificate
Comodo Wildcard SSL certificates provide security for subdomains such as yourdomain.com, secure.yourdomains.com and mail.yourdomain.com. Buy this certificate and make SSL certificate management easy!